Nights where the wilderness
itself may unpredictably awaken
A jungle where you don't know what is just inches in front of you, or what might happen. A nouvelle night tour for rousing your animal abilities and traveling through this place viewing it the same way the creatures who live there do.

30 min. by car from Naha,
an unexploited area in the southern
part of Okinawa's main island
Locals have called this spot Uwaga since ancient times. Limestone that originated from coral reef abounds here, along with an abundance of natural springs.
This precious karst topography covers the area, which also hosts numerous caves on a list topped by one of the largest limestone caverns in Japan, Gyoku Sendo.
The Uwaga Jungle is an untamed tropical forest with a unique natural landscape featuring hills made of limestone, valleys enclosed by quays, caverns, springs, and creeks. It is also inhabited by living things of all sorts.
So that more people can be made aware of the value of this spot, a portion of it has been opened to the public for guided tours. These tours are permitted only at night and to a limited number of people.
A Wild Jungle Experience
Just walking this wild trail in the dark requires maximum effort. Once you become accustomed to these conditions, what you can see and hear will change.
You become one with nature, enveloped by the brilliance of the night skies and the voices of the forest. Feel for yourself with your whole body how it is to exist in the wild.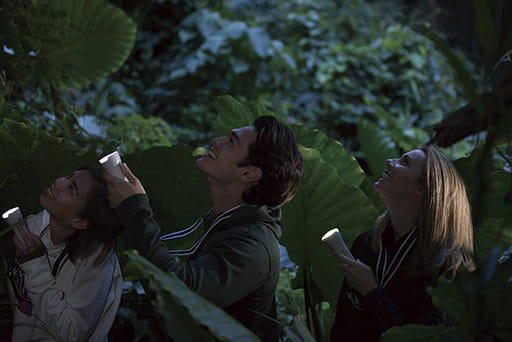 Beginners welcome—
no experience necessary.
All you need are determination and nerve!
The equipment you will need such as high boots and lights are provided as free rentals, so no need to worry. Your guides will deal with safety concerns, so even beginners can come along with full peace of mind so long as you have the determination to experience a thrilling trip through primeval wilds and the nerve to take on a jungle at night.
Travel to Another World in an Old-Fashion Jeep!
Once all preparations for trekking are in place, it's time to set off! Board an open-top Mitsubishi jeep and head toward the jungle's entrance. Suddenly, you find yourself ready for a trip through the wild!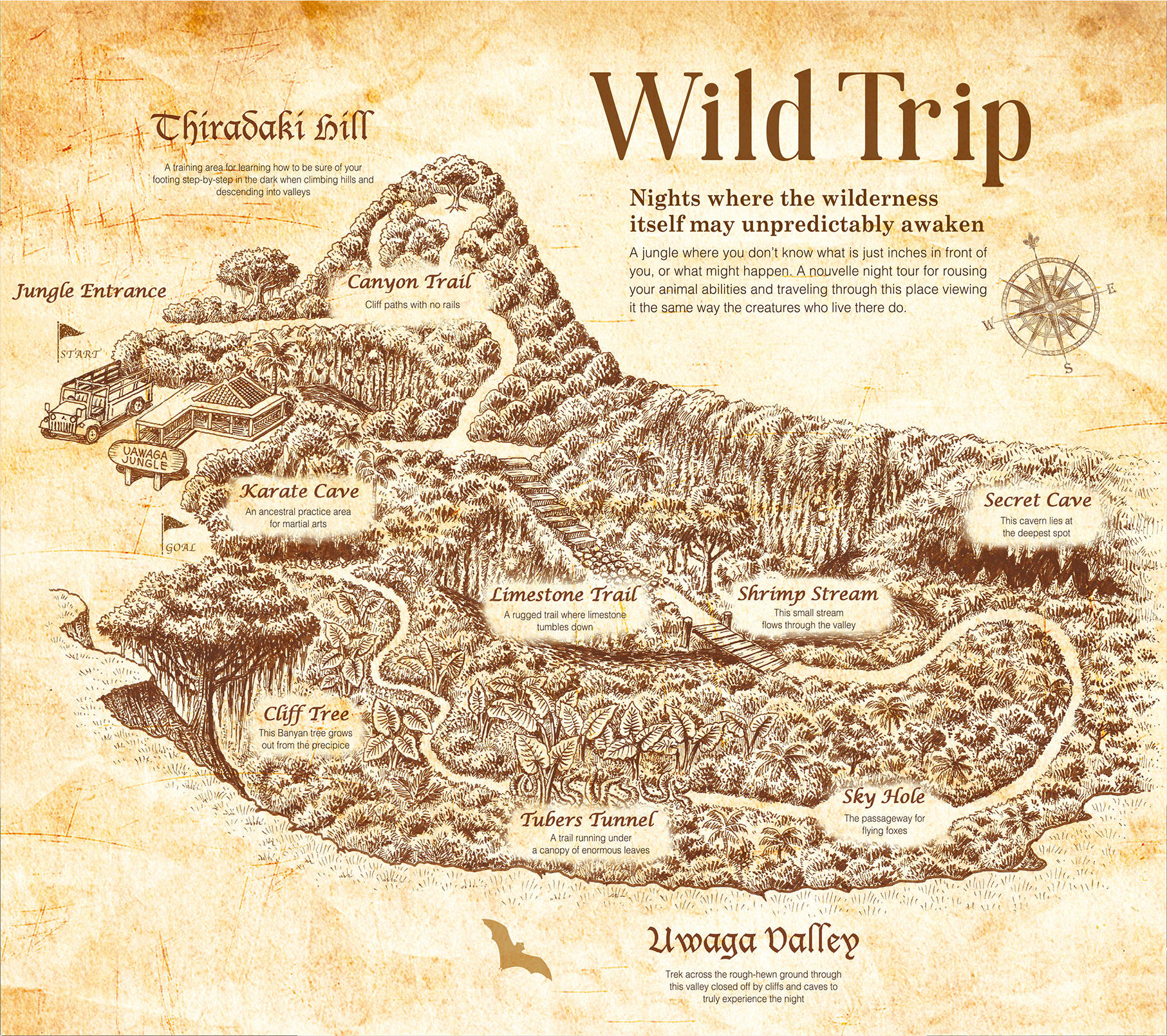 The Ever-Changing Forest
The forest's visage varies from day to day due to changes in the seasons and weather.
When the rain lets up, insectlife stirs itself into vibrant activity and the plants rapidly grow. You absolutely must experience a summer night where the humidity is so high that you will be startled to see the steam form into drops! No matter when you come, you are sure to have the fun of new discoveries and different experiences.

A Natural Environment Deserving Protection
In the jungle, the many things that abide here go about their activities without end in silence.
We ask that you leave your surroundings undisturbed as you take it all in, be respectful to the plants and creatures, and do your best to exercise moderation in your behavior.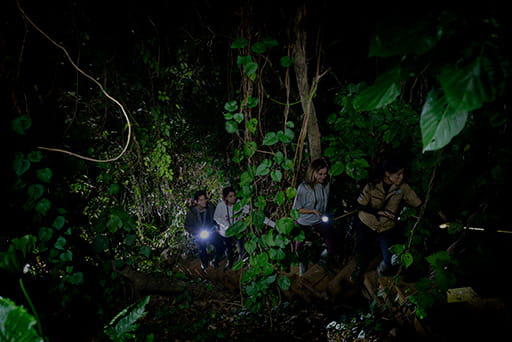 Trekking Rules
■Do not take anything from the jungle home with you, and do not leave anything you brought with you behind.
■Do not bend or damage any plants.
■Do not touch any living creatures you know nothing about.
■Do not get separated from the person in front of you, and absolutely do not leave the trail.
■Be sure of your footing before doing anything.
■Do not shine your light in anyone's face.
■Pass on any messages from the guide to the person behind you.