Q&A
What If?!
■you spot a dangerous creature?!
■you drop something you are carrying off a cliff or to the valley floor?!
■you become ill during the trek or hurt yourself?!
Stay calm, don't move, and alert your guides!
Uwaga Guide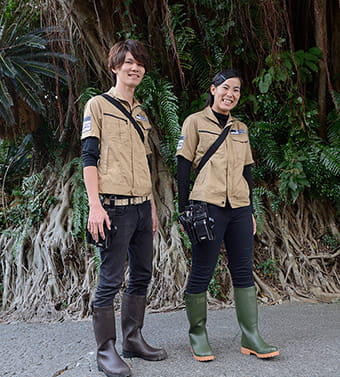 Our professional staff (from the Habu Museum Park) trained in handling poisonous snakes keep everyone safe as they highlight points of charm and interest in the natural setting around you!
Standard equipment for guides
First aid kit,
poison remover,
snake hook
What sort of clothing is ideal?
We recommend wearing clothing that is easy to move around in, does not block your view, and protects your skin against insects, trees and plants.
A towel is also recommended on days when the temperature and humidity are high.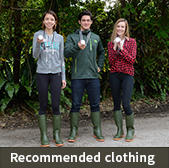 Reservation · Inquiries
Advance reservations are required to join the tour.
[Reservations]

Accepted until 5 p.m. on the day
Tour Calendar ▶

[Inquiries](Japanese only)

TEL.098-948-4489 / 9:00 - 18:00
[Entry qualifications]

・Participants must be able to understand simple safety instructions given in Japanese or English

・A Japanese tour and an easy English tour are available.

・Participants must be able to cooperate with the guide's instructions so the tour proceeds safely and hazards are avoided

・Participants must be at least four years of age or older and able to walk along a trail in the woods for approximately 1 km

※Children aged 14 and below must be accompanied by a parent or guardian
 
[Charges]

Adults: ¥3,500 Children: ¥2,000
*Adults: age 15 and older, Children: ages 4 to 14
*Refunds are not available to participants who choose to leave the tour midway for personal reasons.
*Children cannot participate without a guardian.

[Items included in the charges]

・Equipment rentals: High boots, special light, bag for valuables, cost of on-tour insurance
[Departure time]

After 7 p.m. (may very depending on the season)
・The number of tours may be increased depending on the reservation situation. The tours take place as usual even when it rains. However, they may also be halted due to bad weather.
[Meeting place]

1336 Maekawa, Tamagusuku, Nanjo City, Okinawa Prefecture Okinawa World Visitors Cabin
・Reception opens 30 minutes before the tour begins.
・Please gather at the reception area 15 minutes before the start.
Meeting place MAP
[Time required]

approx.80 min.
Visitors, who arrive by public transportation, are kindly asked to use a taxi service for their return after the tour.

■Nanbu Kyodo Musen Taxis: 098-855-2058
■Ozato Taxi : 098-945-2422
■Yamaichi Kotsu : 098-949-1661
Private Plans


《Private tours are available for a group》

Tour fee: ¥35,000 (1~10 people) ・Please inquire about start times, number of participants and other details.
・Ordinary tour fees are applied to the 11th person and any additional participants.
■Umbrellas cannot be used on the tour (basic vinyl raincoats are sale).
■Baggage other than valuables cannot be brought on the trail.
[notice]
Before your participation, we would like you to note that this tour will be conducted under conditions with many uncertainties such as the weather and wildlife. For these reasons, please be aware that we cannot completely exclude such potential dangers.
《Cautionary Notes for When You Join the Tour》
●The trail runs through an area that has been left wild with poor footing, and in sections participants will get about by jeep. Accordingly, persons to whom any of the following situations apply are advised to refrain from participating.
Ill-health / respiratory system concerns / trouble dealing with insects and other living things / inebriated / acrophobic or claustrophobic / pregnant / heart condition / accompanied by child 3 y.o. or younger
●You cannot use any lights on the tour other than those specifically supplied.
●The use of wheelchairs and baby strollers (prams) is not permitted on the tour.
●Pets cannot be brought on the tour.
●You may have to walk as much as one kilometer to reach the nearest toilet in the forest. Please wear comfortable clothing that you are not concerned about getting a little dirty.
●We ask those with children (14 years old or below) to keep their children safe.
●In order to respond quickly to any problems that may occur, participants may not be able to take part in the tour if the tour guide decides that he/she is not suitable to do so, even if the participant agrees to the cautionary notes above.